In the U.S., underserved populations are at greater risk for developing type 2 diabetes, including Latinos who are twice as likely to develop this disease. In Santa Barbara, Latinos comprise nearly 46% of our community. 
At SDRI, our team is committed to improving health outcomes for underserved populations. A key element of SDRI's efforts include hiring bilingual Community Health Workers (CHW) who serve a critical role in building trust and rapport within the local Latino population. Additionally, CHW provide multi-lingual nutrition education, training on technology to better manage diabetes, conducting health screenings, recruiting study participants, and maintaining communication with key community organizers to promote SDRI's health education programs.
The important work performed by SDRI's CHW ultimately helps to reduce the rate of type 2 diabetes and prevent future generations from developing type 2 diabetes. 
Community Health Worker – Betty Angeles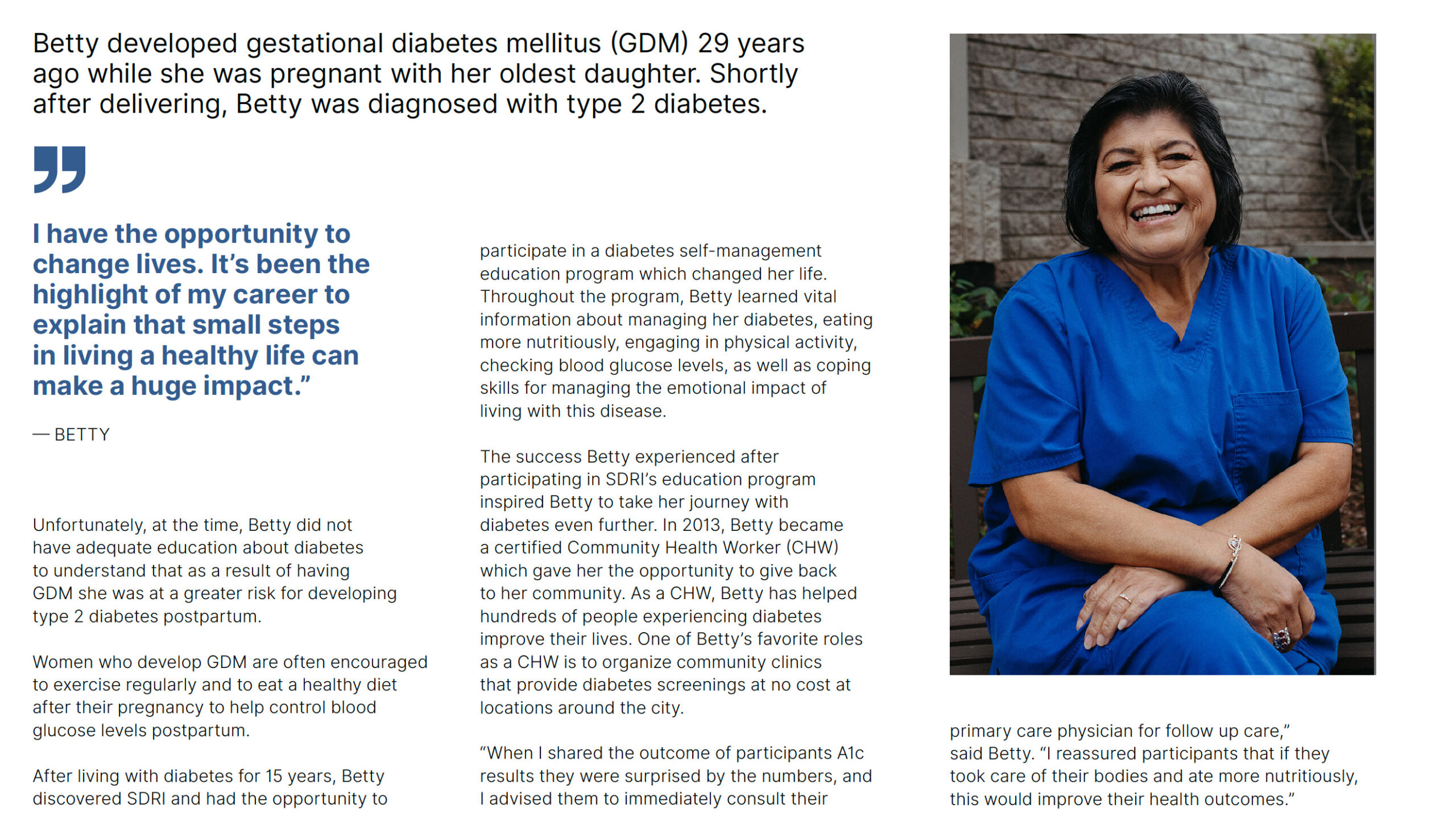 Community Health Worker – Betty Angeles
Betty developed gestational diabetes mellitus (GDM) 29 years ago while she was pregnant with her oldest daughter. Shortly after delivering, Betty was diagnosed with type 2 diabetes.
I have the opportunity to change lives. It's been the highlight of my career to explain that small steps in living a healthy life can make a huge impact."
— BETTY
Unfortunately, at the time, Betty did not have adequate education about diabetes to understand that as a result of having GDM she was at a greater risk for developing type 2 diabetes postpartum.
Women who develop GDM are often encouraged to exercise regularly and to eat a healthy diet after their pregnancy to help control blood glucose levels postpartum.
After living with diabetes for 15 years, Betty discovered SDRI and had the opportunity to participate in a diabetes self-management education program which changed her life. Throughout the program, Betty learned vital information about managing her diabetes, eating more nutritiously, engaging in physical activity, checking blood glucose levels, as well as coping skills for managing the emotional impact of living with this disease.
The success Betty experienced after participating in SDRI's education program inspired Betty to take her journey with diabetes even further. In 2013, Betty became a certified Community Health Worker (CHW) which gave her the opportunity to give back to her community. As a CHW, Betty has helped hundreds of people experiencing diabetes improve their lives. One of Betty's favorite roles as a CHW is to organize community clinics that provide diabetes screenings at no cost at locations around the city. "When I shared the outcome of participants A1c results they were surprised by the numbers, and I advised them to immediately consult their primary care physician for follow up care," said Betty. "I reassured participants that if they took care of their bodies and ate more nutritiously, this would improve their health outcomes."